A big thank you to our sponsors who keep this blog free to the readers:
This week's blog is sponsored by G-Accon.
G-Accon is a live link that seamlessly connects our clients' QuickBooks Online data to our custom CFO Reports inside of Google Sheets.
The result?
Automated, customized CFO reports with virtually no data manual entry and no mistakes. My firm saves literally 40+ hours a month with G-Accon.
👉 Click HERE to start your free trial and get 30% off for being an Accelerator blog reader!
---
September 8, 2023
Read time: 3:10 minutes
In today's edition, I'm going to show you 3 dead simple tips to close more leads.
For most fractional CFOs, getting new leads is a challenge.
That means that we have to make the most of every new lead that comes in the door!
There are some very simple, very free tactics we can use to increase the number of leads that we successfully turn into clients.
The result?
✅ More revenue!
✅ More profitability!
✅ And more impact!
It just requires intentionality about improving your performance.
Unfortunately, most firm owners aren't intentional about improving their sales call performance.
The primary reason is that most fractional CFOs aren't auditing their sales calls.
But that's far from the only reason.
We forget to record our sales calls.

We assume leads will freak out if we hit record.

The thought of watching ourselves is really

WEIRD

.
Not to worry my friend.

Today, I'm going to share three very simple tips you can implement IMMEDIATELY to make the most of your sales calls and close more leads.
Let's dive in...
Simple Tip 1: Use a Framework
Most fractional CFOs I talk to just wing it when they get on sales calls.
In other words, we jump on the call and just let things go wherever fate decides they should.
Which is usually straight into the lead saying, "OK, I don't think I need CFO services right now. But I'll DEF let you know when I am ready!"
🚨Spoiler alert: They never reach back out.
You've got to lead the call.
You've got to direct the conversation.
You have to take them on a journey that you have intentionally crafted.
The best way to accomplish this is by having a carefully curated framework that you follow on all sales calls.
Every time.

Without exception.
A proper framework will help ensure that you're collecting all the information you need to determine if and how you can serve them. It also shows the lead that you know what you're doing - which dramatically increases your perceived value.
Not sure where to start with your sales framework?
I created a FREE TRAINING where I share the EXACT framework I use on sales calls in my firm. You can access it HERE.
Simple Tip 2: Record Your Sales Calls
There are two common hangups here that have to be addressed:
You think people will freak out if you record the call.

The idea of recording and rewatching your calls is weird.
Let's address each...
1. When you record Zoom calls, you and the other people on the call get a pop-up letting everyone know the call is being recorded.
If the lead has an issue with the recording, they'll tell you! It's easy to just stop the recording.
That said, I have had ONE lead EVER ask me not to record the call.
He is a lawyer.
Whatevs.
2. Would you rather be good on sales calls or broke?
✅ If you're ok being broke, then continue not recording sales calls.
✅ If you want to be good on sales calls (and thus not broke), then start recording them so you can leverage the benefits of Simple Tip 3 (more on that shortly).
I decided to automate the recording process so I don't even have to think about it.
It's easy to set up auto recording inside Zoom.
Here's how 👇
Go into your Zoom account settings HERE.
Select ACCOUNT MANAGEMENT and then ACCOUNT SETTINGS from the left menu bar.
Once inside, select RECORDING from the top menu bar.
Scroll down and turn on AUTOMATIC RECORDING.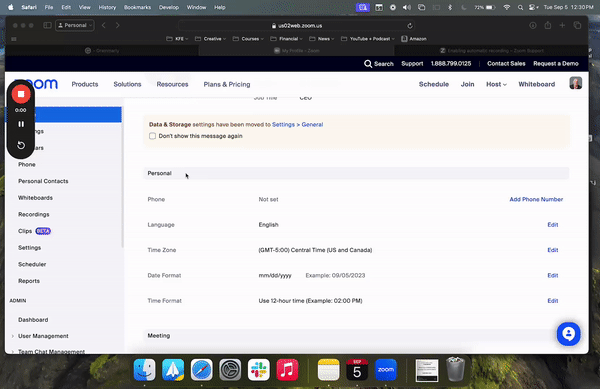 No more excuses.
Start recording so you can close more leads.
Simple Tip 3: Audit Yourself
Every time you schedule a sales call, block off 30 minutes on your calendar the next day for an audit.
This is your chance to watch the replay of your sales call to look for ways you could have improved. But it's also for you to identify things you did well (so you can do more of those in the future!).
Some things to watch for in your audit:
Your energy - Did you act like you wanted to be there?
Their goals, dreams, aspirations, fears, and uncertainties - You should have the lead identify these on every sales call.
Your services as a solution - Did you clearly explain how your services will help them achieve their goals and overcome the fears they identified?
Simple next steps - Were you clear on outlining exactly what they need to do to start working with you? Or were the next steps vague?
Pro Tip: Earlier I mentioned the free sales framework (LINK) that you can access. This framework easily doubles as an audit guide that you can use to evaluate your performance.
My hope is that you close as many leads and land as many CFO clients as possible.
Implementing these three simple tips will help get you to your goals faster.
Your coach,
Michael
---
Whenever you are ready, here are 3 ways I can help you:
1. The Inner Circle - every month my team and I go live and share the most impactful lessons we've learned in our journey to start, scale, and optimize our own CFO firm (including live Q&A). Plus you'll get access to our private community of 175 fractional CFOs.
2. The CFO Academy - This is a 7 week deep dive into the exact playbooks that I use to run my firm, KFE Solutions.
3. If you'd like more amazing (and free!) content about starting, scaling, or optimizing your Fractional CFO firm check out:
→ The CFO Report on YouTube (if you love video)
→ The CFO Report on Apple Podcast (if you prefer audio)